The Rockland Skating Club has been recognized at the 'Engaged' level in the Skate Ontario CanSkate Excellence Recognition program.

CanSkate (Learn to Skate)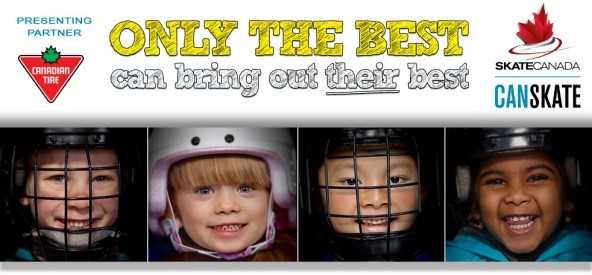 CanSkate is our entry-level program where basic skating skills are taught to children, youths and adults. CanSkate is a dynamic learn-to-skate program that focuses on fun, participation, basic skill long-term athlete development (LTAD) principles, CanSkate centers on physical literacy and the fundamental skills needed to take part in any ice sport or to skate as a recreational activity. The program is for beginner and returning skaters aged 5 and older and is 45 minutes in length. CanSkate – Coach to skater ratio is 1:10 with a program assistant (PA).
Pre-CanSkate – This program is for new skaters aged 3 – 5 years old and is a 30 minute class. This a modified delivery of the CanSkate program geared to get skaters CanSkate ready. Pre-CanSkate is for skaters who do not know how to skate and who are still developing the skills necessary for the CanSkate program There are 8 identified skills to master prior to entering Stage 1 of CanSkate. All participants must wear CSA approved helmets. PreCan – Coach to skater ratio is 1:8 with a Program Assistant (PA).
Hockey CanSkate is an enhanced program for skaters that play hockey or aspire to play hockey. Hockey CanSkate helps develop basic skating abilities in a power skating-specific environment, including balance skills, forward and backward skating, stopping, turning and agility skills. Skaters in Hockey CanSkate have mastered Stage 5 of the CanSkate Program. The session runs for 45 minutes. Participants must wear full hockey/ringette equipment that is CSA approved.
RSC is proud of its very successful power skating program and has trained hockey and ringette players in the Clarence-Rockland area including the Ottawa Jr Senators Team, Cumberland Grads Minor Midget AA, Eastern Ontario Wild Major Midget AAA, Major Midget Cobras and Minor Bantam Cobras.
---
STARSkate – Skills, Tests, Achievement, Recognition – this is what STARSkate is all about!
STARSkate offers opportunities for skaters of all ages to develop fundamental figure skating skills in the areas of ice dance, skating skills, free skate and interpretive skating. This program teaches figure skating skills in a group and/or private lesson format in a progressive and sequential manner. Skaters have the opportunity to take Skate Canada Assessments and Tests through a nationally standardized system. The Rockland Skating Club offers three levels of the STAR program:
Junior Stars – Junior Stars is a program for CanSkaters transitioning into the STAR program. RSC offers a Junior Stars program for those skaters working on Stage 5/6 of the CanSkate program. It also helps to provide a transition to the STARSkate program, the first stage into figure skating. Classes are 45 minutes with 35 minutes of group lesson time. Power & Edges classes are included. Junior Stars ratio is 1:6 maximum.
STAR 1 – 3: The skaters participate in skating skills, ice dance, freeskate (jumps, spins, solos), stroking and interpretive skating classes and have a private coach or team coaching is provided.
STAR 4 –10: More advanced skating and opportunities to take tests assessed by a judge, as well as participate in competitions in freeskate, dance, interpretive and team events.
Teen/Adult Skate: RSC offers a teen/adult skate 30 minute class to those new to skating, returning to skating or previous figure skaters wanting to return to the ice. Classes will cater to your level of experience in a group/semi-private format. All beginner adults must wear helmets. Teen/Adult Skate Coach to skater ratio is 1:5